There are many chemicals found at home and in the workplace that can be harmful. Systems have been put in place in order to better protect the public.
There are two systems that you will come into contact with frequently.
-HHPS: Hazardous household product symbols
-WHMIS: Workplace Hazardous Materials Information System
Hazardous Household Product Symbols
These are the symbols that you are most familiar with. You can find them on many labels within your own home.
The shape of the boarder around the symbol is related to the degree of danger.
- Triangle: Caution
- Diamond: Warning
- Octagon: Danger
If the shape has more points, it means it is more dangerous.
WHMIS
Canada's national system for classifying chemicals in the workplace.
WHMIS labels are surrounded with a dashed boarder. They contain the hazard symbol. First Aid information. Risks, etc.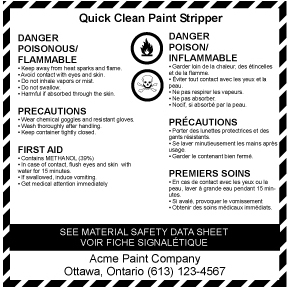 WHMIS symbols
In order to complete this course each student must complete an online WHMIS test through yowcanada.com
Procedure:
1. Go to www.yowcanada.com/register and use the following login information
Username: ssturgeon

Password: WHMIS

2. Register for the course by filling out the form. Double check for spelling errors!
3. Complete the online course and tests. This course will take approximately 1.5 hours to complete. You may not be able to complete the course all at once, however, your progress will be saved and you can login to finish at a later date.
4. Once you have completed your course, save the certificate to your U: drive in the proper location. Your teacher will be automatically emailed a copy as well.